Now that I am a pseudo-dog owner because of Jeff Bull and his two lil' brats – Macey the Yorkie and Jackson (pictured) the Morkie I have been paying more attention to dog-friendly wineries, restaurants, events and things to do around Sonoma and Napa Counties.
Pawsport Napa Valley is an event that is more than just an adorable name – it is a benefit for the Napa Valley Humane Society and wine tasting in Napa the weekend of March 23-26.
Proceeds from Pawsport Napa Valley will support Napa Humane and its programs and services to fulfill their ongoing mission to promote the welfare of companion animals through protection, advocacy, education, and by example.
Pawsport Napa Valley passes are $75 per person and include complimentary tastings at participating wineries, along with a variety of special retail offers, library tastings, food and wine pairings and other activities and events only available to Pawsport Napa Valley pass holders.
Pawsports are $75.00 each and you can purchase them by visiting http://www.napahumane.org/ or http://napahumane-efbevent.eventbrite.com/.
If tweeting, remember to use the hashtag #Pawsport!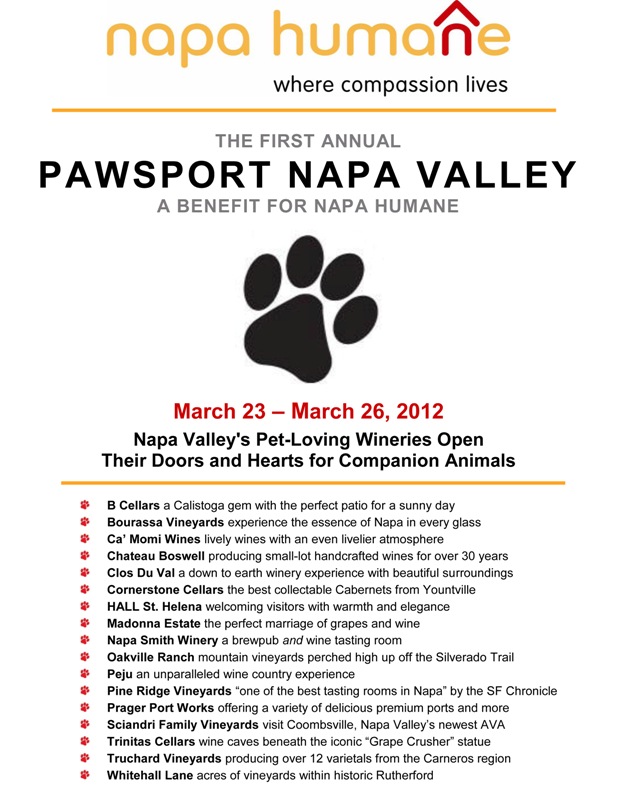 Buy tickets to the Napa Humane's Pawsport Napa Valley on Eventbrite.